Looking Back: The Best of 2020
As we prepare to close the books on the year 2020, we find ourselves reflecting on one of the most challenging, tumultuous, and transformational years of our lives. What were the lessons for us? Where is the wisdom to be found in all of these wounds?
This was the year when all of the right conditions and contradictions for Integral finally emerged — a cascade of "wicked problems" that can only be fully seen, let alone solved, from an Integral point of view, but whose effects can be felt by virtually everybody.
We've always known that Integral was just a little bit ahead of its time. It emerged decades before the world really needed it — allowing us to lay some theoretical and social groundwork as we prepare for a time when our global problems finally catch up with us.
That time, I believe, has finally come.
Until now, Integral has been a "nice to have". But these new life conditions have made it absolutely essential — a basic requirement just to survive these opening chapters of the newly-emerging Transformation Age.
And I think our activities and conversations here at Integral Life have evolved a great deal this past year in order to meet these new realities.
Over this last year, we've seen the Integral rubber hitting the road more than ever before, and becoming more relevant than ever. We've begun a series of conversations that go far beyond talking about the model itself — though we still do that too! — and instead focus on applying the model to our present life conditions so that we can better understand them, adapt to them, and thrive amidst them. We've focused on challenging meta-themes such as racial injustice, the COVID-19 pandemic, climate change, and our ongoing epistemic breakdown — bringing a level of both holism and granularity to these challenges that only becomes possible at Integral stages — while also weaving key practices and perspectives that help us tap into the natural creativity and anti-fragility of the Integral mind.
Which brings us to our most exciting innovation of all — the launch of our new Integral Life Practice platform, which allows you to deepen your own process of Waking Up, Growing Up, Cleaning Up, and Showing Up alongside a real-time community of people who are here for the same reasons you are, all within a safe and sacred container of practice. This in itself has been a much-needed panacea for the uncertainty, anxiety, and isolation that many of us have been immersed in over the last year.
It's been a year of extreme hardship, as well as explosive growth. I have felt this in myself as my own skills, wisdoms, confidence, and creativity continue to ripen in response to all of this disruption— most often a result of facing my own fears and shadows and showing up on camera to host these conversations week by week. I personally don't think I've ever experienced a period of growth as dramatic as I have this year (and I have the intrapersonal stretch marks to show for it!), and I know the same is true for many of you. I have seen this same ripening in you, our audience, as you continue to show up for these live conversations and practice sessions and prove yourselves time and time again to be some of the smartest, kindest, and most awakened people on the planet.
So thank you all for being part of this remarkable journey with us. It has been a tremendously full year for everyone, and we look forward to seeing where we go together in the year to come.
And without any further ado, here are 10 of the best content pieces we've published in 2020. You can also find lots more in our Perspectives archive. Enjoy!
Big Love to you all!
Corey W. deVos
Editor-in-Chief, Integral Life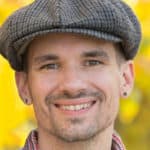 Corey W. deVos is Editor-in-Chief of Integral Life, as well as Managing Editor of KenWilber.com. He has worked for Integral Institute/Integal Life since Spring of 2003, and has been a student of integral theory and practice since 1996. Corey is also a professional woodworker, and many of his artworks can be found in his VisionLogix art gallery.