Welcome to Integral Life
Practice Community!
We invite you to join our live online confidential practice sessions delivered by Practice Leaders multiple times a day and designed to help you thrive in a rapidly-evolving world
Get Full Access
Live Events Calendar
New practices and events are added weekly. To enjoy our calendar in your local time you can set your correct timezone in your Account. Also, you can find answers to the most popular questions in the FAQ section.
Views Navigation
Practice Session Views Navigation
Frequently Asked Questions
How do I join a session?
As long as you are a current member of Integral Life, simply login and visit the detail page of the session you'd like to join; you can access session detail pages on the home page or on the main Calendar (see top of the site navigation). You can quickly and easily add sessions to your personal calendar using the links provided inside each Practice Session (Google or iCal). A button to join that session will be live 15 minutes before the session begins inside the session details page. Also, be sure to set your time zone in your account settings so that you always see each session's start time in your local time.
How are sessions organised? Do I need a camera and a microphone?
Practice Sessions are designed to be safe, confidential containers for practice and discussion led by Practice Leaders and amongst other members. Having your camera on and your microphone working is an important part of creating the right experience for everyone, though it may not be strictly mandatory in every case (it is left to the Practice Leader's discretion).
Why don't you record / make any of the session recordings public?
This format of ILP is designed to be a live, confidential container for practice with other people. Members rely on this policy to feel secure they can show up fully.
Can I participate in some practice if I missed the previous sessions?
Yes! All Practice Sessions are available to all members at all times.
Should I participate in the same practice session more than once?
Yes! Building new mental, emotional and behavioral habits takes time and repetition, so we highly encourage you to attend as many of the same Practice Sessions as you can until you feel like you've built the skills and the transformation within you has occurred.
Are there any guidelines or rules I should know before joining any of the sessions?
Over the years of our own practice we have collected a set of guiding principles that can help you get the most of the live sessions (click the image below):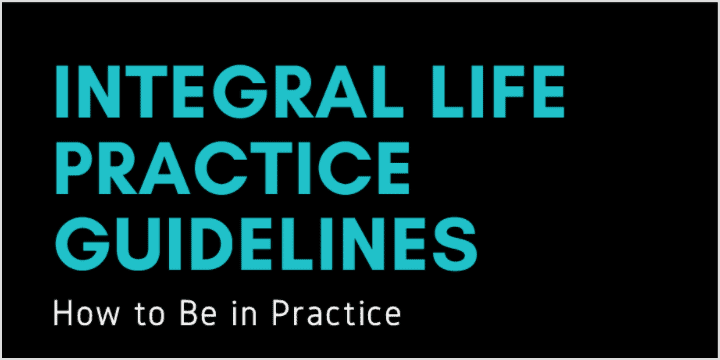 What happens after my $1 trial expires?
You will be charged at the regular monthly membership rate. You can cancel or switch your membership at any time.
Can you organise more sessions for people outside of US/Europe timezones?
We are trying to schedule sessions to meet the needs of as many people as possible, but even in the United States, where a lot of our members reside, we have to cut back on Practice Sessions that are not well-attended. So we're balancing a diversity of topics and times with the need to make sure each is well-attended enough to make the entire offering sustainable. We have consciously designed ILP's timing to try to make some sessions available at convenient times from East Asia to London to Sydney.
Frequently Asked Questions
---
Integral Life Practice Guidelines
What People Say About ILP:
Engaging with ILP in live sessions for just the past 8 weeks has been the most powerful, transformative experience of my life. And a time when I really needed it. The experiences, awakening, shifts and even some of the friends I've made are literally priceless, and I can't believe you're not charging thousands of dollars for it. Because you could. – Judy S.

Fantastic session. It was incredible to experience so much in one hour. Listening to others and their perspectives contributed to the illumination – Kim Willis about Jogen Salzberg's "No Hindrance"

Paula was obviously very experienced, she did a great job. Breakout rooms and repetition of instructions were great. – Nick Gluzdov about Paula Staffeldt's "Reality-Based Leadership"

The practice/content was clear and illuminating. Lisa's delivery, in terms of voice and pacing, was extraordinarily "just right". I'm looking forward to the next session! – Athena A. Pallis about Lisa Frost's "Integrating Previous Stages"

It was amazing how quickly Grant was able to set a safe space and make the process approachable for everyone. Well organized but not regimented. I really liked how lite and simple it was - coming from the middle of my workday and task oriented calls it was fresh air.– Josh McGill about Grant Hunter's "Circle Of Mutuality Group"

I have participated in 3 sessions so far, and have enjoyed how Lee creates an environment of clarity, simplicity, humanity and depth no matter what topic he introduces/lets us experience. – Anja C. about Lee Mason's "Harnessing the Power of Your Enneatype"

I was surprised at how much I accomplished in the one session. I've been working on a university course for branding a mission, but I got more with this. – Karin Payne about Nomali Perera's "Four Quadrant Mission Statement"

Outstanding session! From monkey mind to unity awareness within minutes thanks to Keith's excellent facilitation. Keith skillfully creates a practice space and consistently supports everyone's engagement throughout. – Lee Mason about Keith Martin-Smith's "Uncovering the Wisdom Within"

I really like that I left the session with a specific goal for the week. It was specific and inspiring. I was also inspired by the others I met in the breakout groups and they triggered other things for me to explore. – Claire Worlidge about Lee Mason's "Unleash Your Talents"

Very well organized information and exercises to reveal more that I need to know. I have some extra tools now and phrases to use when I'm in those sticky situations. – Mary Janicki about Nomali Perera's "Creating Healthy Boundaries for Empaths"

Great midday practice. Loving this new-to-me inhabiting awareness. Wonderful. – Sheila L. Stahl about Ryan Oelke's "Embodied Awareness"

Loved it! You get to see everyones perspectives and join in freely, everyone got a chance to speak up! So interesting and new-perspective-promoting! – Luna W. about Tyko Granberger's "Unity Within: Owning the Voices of Vulnerability and Power"