---
---
Embodied Success is an innovative new coaching program by Ryan Oelke, designed to help you — evolutionaries, change-makers, and co-creators — to discover your own radically full and unshakeable success.
Come home to yourself.
Share your heartfelt passion.
Make it happen.
H
ello, my name is Ryan Oelke, and I am very excited to introduce you to my new training program,
Embodied Success
. As an accomplished coach, practitioner, and entrepreneur, I am deeply passionate about personal development, and helping people find ways to bring the fruits of their development into their work in the world. And it is because of that passion that I carefully designed this program to help you to experience your business, your offerings, yourself, and life as a whole — a seamless, integrated journey.
What I call 'embodied success' leads not only to better results, more joy, and a success that embraces the full spectrum of your life and business, but also means no longer waiting to feel successful in some distant future. Your success starts now.
This training integrates all four essential paths of personal development — growing up, waking up, cleaning up, and showing up. The inner lessons are designed to help you with the first three, while the outer lessons help you leverage all of this inner work through innovative management and marketing strategies that will allow you to show up more fully in your life and in your work, fully aligned with your deepest passion, purpose, and embodied wisdom.
When you stop hustling and embrace the path of embodied success you experience pleasure and enjoyment in your work, you savor the work you love, feel more alive and engaged with yourself and those you serve, and you're able to meet the challenges of your business with dignity and confidence in your own abilities, to not only make it through difficult times, but to emerge stronger.
I want you to live a success that you call your own, that is truly you.
Too many coaching programs leave you high and dry by only addressing one of two seemingly sides of your inseparably whole life and business: your inner world of emotions, thoughts, and aspirations or the outer world of your business needs and one-size-fits-all solutions.
The result of this fragmented approach to business coaching? You yourself feel fragmented, unable to experience the fullness of your innate wholeness and creative capacities.
You either feel really inspired but have no idea how to actually succeed outwardly, or you're left anxiously chasing business sandcastles, feeling utterly disconnected from what you're doing.
Enough with this fragmenting of who you are and your work in the world.
You need both the depth of your inner world and personal life to bring purpose and guidance to your business, and you need effective ways of enacting your vision in the real world to thrive and have a positive impact.
Embrace your life and business as the seamless whole it is.
Live fully and get results: you don't have to choose.
"Ryan is redefining what 'business coaching' looks like with his creative approach which integrates somatic awareness, mindfulness, and integral perspectives into his work as a strategic business advisor."
Hi, I'm Ryan Oelke.
What do you most need right now?
Watch 2-minute testimonials from participants
Corey deVos, Editor in Chief, Integral Life
Angela Raines, Enneagram Practitioner, Writer
Tylor Middlestadt, President and CEO, Inflection Point Design + Development Group
- Josh Simmons, President and Founder of Prosper Sustainably, Fulfillment Bound
When we feel whole within ourselves and we meet the daily challenges of bringing our gifts to the world with ingenuity, adaptability, and resilience, we experience embodied success - a success that is unshakeable and radically full.
The Embodied Success coaching program integrates my 20 years of experience, practice, and study of multiple fields: embodiment, business, marketing, meditation, psychology, somatic work, and philosophy.
Rather than piecing together all of this practical wisdom on your own, you get to invest all of your energy and focus on practicing and living more deeply in your life and work. And because I take an integral approach in the program, your journey is never a fragmented experience. Starting from wholeness, growing through wholeness.
---
A training program that does what it says:
Honor and include your full experience in your business and success, including your inner life and outer realities of your business.
Paced, Personalized, and Hands-On. You benefit from 23 powerful lessons that you can take at your own pace.
Real world business strategies, principles and tools that are practical, high leverage and immediately applicable
Guided practices to dive deeper and establish momentum
Lessons integrate depth and pragmatism, distilled and contextualized for small businesses and solopreneurs
This program seeks to both inspire and liberate your heart and vision, to help you step fully into the work you love
---
This program is filled with practical guidance for brave work, deep impact, financial thriving, resilience, and joy.
Enroll in Embodied Success
YOUR PRICE: $145
[reveal_quick_checkout checkout_text="ENROLL IN THIS COURSE" block="true" shape="square" size="large" checkout_action="lightbox" id="182729"]
Transformation
in Two Phases
Embodied Success takes a two phase approach by first having you come home to your body, life, and experience, and then bringing your inner wisdom and passion into tangible strategy and action.
Inner: Come home to yourself, bring yourself fully into your business
Inner life practices and teachings that help you deepen self-awareness and outer-awareness of your business


Attune to your fundamental wholeness and ground your business in your innate wisdom and intuition


Articulate success that is personal, rooted in your body, and naturally inspires you every day.


Stay centered during the dips, challenges, and difficult times


See your business and life with more clarity and nuance, thereby lessening the burden of complexity


Give voice to what is most deeply motivating you in your work, feel that inspiration fully, let it fuel your business (rather than confusion or anxiety)


Identify with crystal clarity what your number one, biggest challenge for your business right now, that if resolved, will bring new life and movement to your work


Free yourself from the grips of your hustling patterns, cultivating vitality and resilience


Identify and release holding patterns and emotional shadows that hijack your success
Outer: Think and act like a seasoned pro
Get free of the 'cement-mixer of not-doing' and the 'illusion of the immaculately conceived solution'


Learn easy, powerful ways to experiment and test your ideas to get creating, marketing, and selling now


Deepen your relationship with your audience and get their help on what to do in marketing and how to talk about what you do


Leverage my Offerings Creation Matrix to design the right offerings for your work and your audience


Experiment, refine, and craft a successful marketing and sales funnel unique to your business using my Marketing and Sales Matrix


Learn how to track your success in a way that actually leads to more success and insight (including key metrics to track)


Cultivate a conscious relationship with your personal finances and business finances, bringing them into harmony


Learn to execute (make sh*t happen) with efficiency, effectiveness, freeing up creative energy and getting better results + learn about all my favorite tools and apps
Meet your coach, Ryan Oelke
I am the founder and CEO of PowerUp Productions (a mindfulness based creative agency), business coach, meditation teacher, and co-founder of Buddhist Geeks. For the last decade I have served hundreds of meaning-driven clients who are making the world a better place. Our clients include spiritual teachers, creatives, healers, consultants, coaches, yoga teachers, wellness practitioners, just to name a few.
I work with clients and students all over the world, virtually and in-person, in private sessions, and in groups and retreats. I have an MSEd in counseling psychology and I'm a certified teacher in Judith Blackstone's Realization Process, a direct path to embodied nondual awakening.
I have 18+ years experience in meditation practice and study, particularly in Tibetan Buddhism. I'm a co-founder of Buddhist Geeks and teacher at Awakening in Life and Heart of Insight.
I live in Asheville, NC and work with clients all over the United States and the world.
I'm committed to your success and joy.
My commitment is to help you come home to yourself and your business, and to co-catalyze your process so you move resolutely forward with rooted passion and uplifting focus.
I'm here to empower you with all of the best practices, techniques, and strategies I have, and to facilitate and teach you how to do it for yourself.
Our work together includes a tool box filled with embodiment, somatic awareness, mindfulness, healing, inquiry, creativity, strategic thinking, and savvy action-taking that moves you decidedly forward in your process.
What you need, not what you 'should' do or 'ought' to be
In this program you'll gain momentum in your success, but what you need to gain that momentum depends on your unique life and business in this very moment.
On one hand, you might need to take big steps forward, get free of hesitation, receive encouraging accountability and bring something big to life in your business.
On the other hand, to go forward you might need to paradoxically take a step back, slow down, gain perspective, resource, rejuvenate your passion and creativity, and see your business and life with fresh eyes and new spirit.
Wherever you are in your process and path, that is where I'll meet you, and this program is designed to help you integrate all of who you are in the work you do.
Your business. Your life. There's room for everything. Leave nothing out.
Embrace your life and business as the seamless whole it is.
Live fully and get results: you can have both.
Program Lessons
[wpcourse course="19"/]
What You'll Receive
Lifetime access to 23 lessons from Ryan Oelke
More than 8 hours of streaming audio/video
Audio versions for all lessons
FREE BONUS COURSE: Rockstar Productivity
Exclusive discount to personal and group coaching with Ryan
Built-in journaling app for notes and personal reflections
Enroll in Embodied Success
YOUR PRICE: $145
[reveal_quick_checkout checkout_text="ENROLL IN THIS COURSE" block="true" shape="square" size="large" checkout_action="lightbox" id="182729"]
"Ryan is redefining what "business coaching" looks like with his creative approach which integrates somatic awareness, mindfulness, and integral perspectives into his work as a strategic business advisor.
He created space for all of my expressions and feelings about the challenges I was working through, and helped me to identify the critical aspects which needed attention, important inquiries that were wanting to unfold, all the while helping to guide my own intuitive awareness to survey the inner landscape of my being in relation to the various decisions, actions, and strategies that I was cultivating.
After a mere 6 sessions together, he helped position me to take a huge leap of faith, resign from my high-paying career and forge a new path as an entrepreneurial management consultant with a vision and a plan to ensure that my business would be both successful to my bottom line, and nourishing to my embodied being. My first year in business, with Ryan's help in launching, is poised to break the 6-figure mark, and possibly approach a quarter million in revenue.
I look forward to working with Ryan again in the future, and I recommend him with the highest regards to other emerging and accomplished individuals looking for a grounded, mindful, and super-sharp business coach/advisor to help them through a transformative or transitional process."
- Tylor Middlestadt, President and CEO
Inflection Point Design + Development Group
"I have been taking Ryan's new Embodied Success coaching program, and it has been astonishing.
The program itself is fully steeped in integral insight, as you would expect from someone like Ryan, but personalized and directly applied to our immediate experience of body-mind-space. Some of the real fruits of the program so far have been an almost palpable sense of consolidating my own innate power and will, a deeper alignment with my purpose, increased motivation, and some better, more embodied strategies to help deal with the many overwhelms, uncertainties, and anxieties that co-arise with my work in the world.
Ryan is a master of his craft, and engages his clients with wisdom, skill, empathy, and compassion. I can't recommend his coaching programs enough."
- Corey deVos, Editor in Chief, Integral Life
"Ryan's a rare paradox. On the other hand, he's an ultra-practical, no-bullshit entrepreneur whose decade+ of experience running his own agency and guiding hundreds of other entrepreneurs makes him savvier than most anyone I know.
On the one hand, he's an immensely sensitive embodiment teacher and deep spiritual practitioner. This unique combination allows him to give some of the smartest and most open-hearted business advice out there. That's what you get in Embodied Success: both of these sides, in an integrated way.
But he's not just doling out advice, here: he's teaching you to deepen both of these sides within yourself — and integrate and embody them, for you — so you can find your own answers.
I'm continually impressed by Ryan's sensitivity and skill — and this course overdelivers. I especially appreciate his emphasis on embodiment, which is a missing element in many "spiritual" practices — but also in business! If you run a business (or want to) and meditate (or want to), this is for you."
- Angela Raines, Enneagram Practitioner, Writer
"I joined the Embodied Success program seeking marketing guidance and a cohort of like-minded entrepreneurs to push me forward in one of my new ventures. I wasn't sure about the embodiment related offerings, but consider myself an intentional person and remained open-minded. The embodiment practices that I learned through Ryan and this program were by far the most valuable part of this experience. They not only changed my perspective and approach to my business venture for the better, but significantly improved my life.
Through focused and enhanced awareness of feelings throughout my body as we explored different topics, I gained a greater understanding of where I am and where I need to go in key areas of my life. At one point, the message "relax" appeared and I was able to drop the guilt inducing pressure I was regularly placing on myself. This led to a state of allowing and satisfaction with my new venture and other pursuits. It is a practice I keep coming back to as I do daily embodiment meditations upon waking, the first consistent meditation practice of my life.
Equally important, I found kindred spirits whose journeys I enjoy following and whose success I am continuously rooting for. I feel equally supported by them and expect our friendships to endure for many years, if not a lifetime.
Lastly, Ryan and the Embodied Success program offer a wealth of excellent marketing tools, guidance, and feedback although the shift I experienced in this course was so dramatic as to make the nuts and bolts of my new venture less relevant to my immediate and sustained satisfaction and success in life."
- Josh Simmons, President and Founder of Prosper Sustainably, Fulfillment Bound
Enroll in Embodied Success
YOUR PRICE: $145
[reveal_quick_checkout checkout_text="ENROLL IN THIS COURSE" block="true" shape="square" size="large" checkout_action="lightbox" id="182729"]
Is this program for you?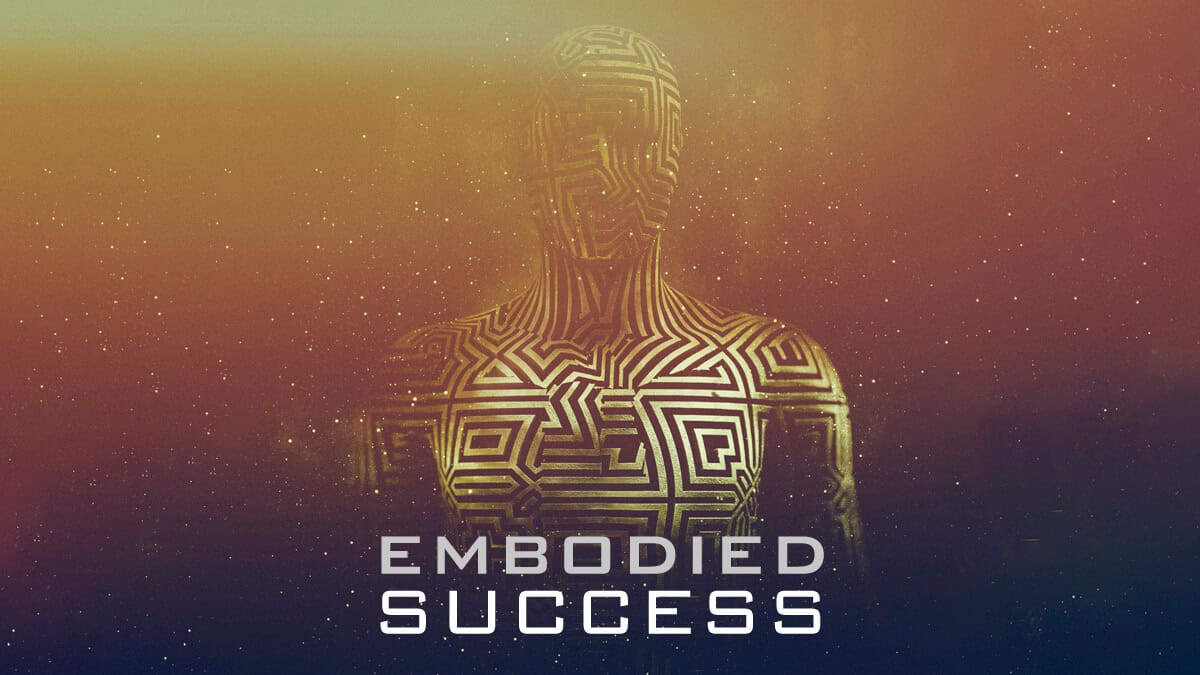 I originally designed this program for both new small business owners and solopreneurs, as well as veteran entrepreneurs. However, as the course evolved, it became increasingly obvious that this training is also tremendously valuable for people who are not necessarily business owners, but who would like to bring more of themselves, their values, and their vision into their work, whatever that work may be. And even if you only interested in personal embodiment work, the practices included in the "Inner Lessons" are worth the price of admission alone.
Embodied success is about the full, ongoing, unfolding, deepening journey of success, not simply the beginning or some fairytale finishing point and as such it inherently serves the full spectrum of your experience.
This is about lasting, joyful, results-driven, success we feel fully in our life.
If you feel there's a split between your inner life and your outer work, this program might be for you. It might be a total disconnect, or it might feel like an ache in your heart that something isn't quite right, but you can't put your finger on it.
If you feel there's something big in you that wants to come out and you are ready to serve others in a deeper way with a lasting, meaningful impact on their lives, this program might be for you.
If you're just starting your journey into business, this program might be for you. You know you're deeply experienced and talented, but you have a hard time figuring out how to make the leap to doing the work you're called to do.
If you're successful in the sense that you're doing work you love, but barely making it by and feel exhausted, this program might be for you.
If you're successful and money is flowing in nicely, but you feel overworked or are looking for fresh, deeply inspired motivation.
If you want to feel rooted and free in your work and finances to both focus more deeply on the work and to feel more resourced, vital, and alive, this program might be for you.
If you want to get to the most essential, pragmatic solutions because you likely wear multiple hats, feeling scattered, and your attention spread thin across all the facets of your business, this program might be for you.
Whether you are an entrepreneur, a person who would like to bring more passion and purpose to your work, or simply someone who wants to increase your embodied wisdom in your daily life — if you want to feel deep wholeness, joy, and confidence in your own embodied success, this program is for you.
More praise for Ryan Oelke
"Ryan doesn't coach people from some sort of pre-conceived model, that he then tries to apply to you and your business. He doesn't ask you to fit a mold. Rather he pulls wisdom born from years of experience actually being in the trenches as an entrepreneur helping other entrepreneurs. Ryan asks penetrating questions. And he listens. As a result he groks the big picture. This makes what he has to say uniquely valuable. It also makes it strategically aligned and mission aligned with what you're already trying to do. Ryan acts as a catalyst for the process you're already in, not as your business savior. That's why he's trustworthy."
- Vincent Horn, Teacher
Buddhist Geeks, Pragmatic Dharma, Heart of Insight
"We've worked with Ryan on a number of strategic marketing projects for our online courses business. It's always amazing how quickly he understands our goals and begins to craft a creative solution. Ryan's wealth of experience and keen insight are invaluable assets when you are aiming for efficient, on-target results. At Inner Science, we've benefited from Ryan's guidance through some pretty complex projects, and I highly recommend him as a strategic partner."
- Stacey Marvel, Director of Online Programs
ThomasHuebl.com
Embodied success starts with you.
Join me on a journey of living a success that you can truly call your own.
Enroll in Embodied Success
YOUR PRICE: $145
[reveal_quick_checkout checkout_text="ENROLL IN THIS COURSE" block="true" shape="square" size="large" checkout_action="lightbox" id="182729"]