New:
Empty Spaces is an 80-minute musical meditation, featuring Alex Grey, Ken Wilber, Sally Kempton, and Alan Watts. A soundtrack for Dark Nights. Liberation upon hearing.
---
Track List
Here is a comprehensive track list for the Dark Matter mix, complete with time-codes and purchasing links. If you like anything you hear in this mix, please support the artists by PURCHASING THE ALBUMS!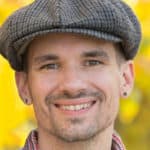 Corey W. deVos is Editor-in-Chief of Integral Life, as well as Managing Editor of KenWilber.com. He has worked for Integral Institute/Integal Life since Spring of 2003, and has been a student of integral theory and practice since 1996. Corey is also a professional woodworker, and many of his artworks can be found in his VisionLogix art gallery.