T
he Integral European Conference is quickly approaching! And what's more, you can attend from the comfort of your own home.
Integral Europe has gone global, as COVID-19 has forced the IEC event planners to shift gears and move to a 100% streaming conference. While it is unfortunate that the conference will not feature the face-to-face community experiences that integral events are so well known for, it is also exciting to think of all the people who may not have been able to attend a live event in Europe, but who may now have the opportunity to participate with the conference remotely.
And what a conference it's going to be! Watch as Bence Ganti and I take a sneak peak into the IEC lineup (which will feature over 70 presenters and a full range of activities including workshops, games, and even live concerts) and discuss the many challenges of transitioning from a live event to a streaming-only event.
For more information about the event, click here.
---
Written by Corey deVos
Music by Stuart Davis
Reflections
As you listen to this conversation, you can use the Notes app in the bottom-left corner of your screen to record any reflections that may come up for you.
---
Bence Ganti, MA, co-founder of Integral Europe (since 2012) and also co-founder and director of the Integral European Conferences (since 2014) and founder of the Integral Academy in Budapest (since 2006), is an integrally oriented clinical psychologist, vipassana meditator, and international teacher of integral psychology.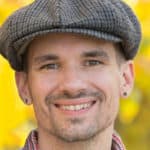 Corey W. deVos is Editor-in-Chief of Integral Life, as well as Managing Editor of KenWilber.com. He has worked for Integral Institute/Integal Life since Spring of 2003, and has been a student of integral theory and practice since 1996. Corey is also a professional woodworker, and many of his artworks can be found in his VisionLogix art gallery.