[dzs_video source="https://vimeo.com/240909085″ config="IntegralLife1″ width="100%" height="675″ responsive_ratio="detect" extra_classes_player="with-bottom-shadow"]
Jeff and Corey make an effort to wrap their integral hearts around the tremendous pain and sadness of yesterday's tragic terrorist attack in New York City (and all other terrorist attacks around the world) while trying to ground the very real fears, anxieties, and resentments these attacks generate into a much more hopeful and optimistic enactment of our world.
Our intrepid hosts also discuss the cultural malaise evidenced by a recent poll conducted by the American Psychological Association, which reports that 59% of the American population believes we are currently living in the lowest point in recent American history. If the world is getting better and better by any number of objective measures, why does it subjectively feel like it is getting worse and worse?
Finally, Jeff and Corey try to answer the question of whether Islam is inherently more violent than other religions, or if this violence is actually being exacerbated by the surrounding social, geopolitical, technological, and cultural pressures of the 21st century.
Upcoming broadcasts
Stay tuned for new LIVE episodes of The Daily Evolver on Integral Live, every Tuesday and Thursday at 1 PM MST (12 PM EST, 3 PM EST)
[add_eventon_el number_of_months="5" ft_event_priority="yes" event_count="3" event_type="3607" tiles="yes" show_et_ft_img="yes" tile_count="3"]
WATCH ON INTEGRAL LIVE
Jeff Salzman worked with Ken Wilber for several years in building the Integral Institute. He is a co-founder of Boulder Integral, the first bricks-and-mortar venue dedicated to the development of integral consciousness. These days Jeff provides integrally-inspired commentary on politics and culture on Integral Life and The Daily Evolver.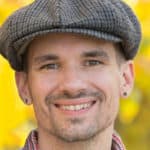 Corey W. deVos is Editor-in-Chief of Integral Life, as well as Managing Editor of KenWilber.com. He has worked for Integral Institute/Integal Life since Spring of 2003, and has been a student of integral theory and practice since 1996. Corey is also a professional woodworker, and many of his artworks can be found in his VisionLogix art gallery.