Today we look at President Trump's State of the Union address, where he made opening moves toward a grand bargain to overhaul the U.S. immigration system and rebuild the nation's infrastructure. What are the policy and political ramifications? Can we trust the guy who brought us birtherism? Are Democrats willing to give Trump victories they themselves want (and Republicans would never give them)?
In this episode we deploy integral thinking to shed some new light on these two issues so crucial to America's future.

Upcoming broadcasts
Stay tuned for new LIVE episodes of The Daily Evolver on Integral Live, every Tuesday and Thursday at 1 PM MST (12 PM EST, 3 PM EST)
[add_eventon_el number_of_months="5" ft_event_priority="yes" event_count="3" event_type="3607" tiles="yes" show_et_ft_img="yes" tile_count="3"]
WATCH ON INTEGRAL LIVE
Jeff Salzman worked with Ken Wilber for several years in building the Integral Institute. He is a co-founder of Boulder Integral, the first bricks-and-mortar venue dedicated to the development of integral consciousness. These days Jeff provides integrally-inspired commentary on politics and culture on Integral Life and The Daily Evolver.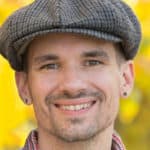 Corey W. deVos is Editor-in-Chief of Integral Life, as well as Managing Editor of KenWilber.com. He has worked for Integral Institute/Integal Life since Spring of 2003, and has been a student of integral theory and practice since 1996. Corey is also a professional woodworker, and many of his artworks can be found in his VisionLogix art gallery.