[dzs_video source="https://vimeo.com/239901464″ config="IntegralLife1″ width="100%" height="675″ responsive_ratio="detect" extra_classes_player="with-bottom-shadow"]
Jeff offers a review of the film The Witch: A New England Folk Tale, noting how much it resonated with his own integral sensibilities. He and Corey then turn the discussion to a broader discussion of the evolution of horror as a genre and its utility as a "release valve" for both cultural anxieties and the persistent existential dread we are all born into. SPOOOKY!!!!!
Upcoming broadcasts
Stay tuned for new LIVE episodes of The Daily Evolver on Integral Live, every Tuesday and Thursday at 1 PM MST (12 PM EST, 3 PM EST)
[add_eventon_el number_of_months="5" ft_event_priority="yes" event_count="3" event_type="3607" tiles="yes" show_et_ft_img="yes" tile_count="3"]
WATCH ON INTEGRAL LIVE
Jeff Salzman worked with Ken Wilber for several years in building the Integral Institute. He is a co-founder of Boulder Integral, the first bricks-and-mortar venue dedicated to the development of integral consciousness. These days Jeff provides integrally-inspired commentary on politics and culture on Integral Life and The Daily Evolver.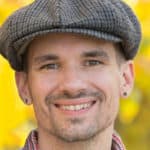 Corey W. deVos is Editor-in-Chief of Integral Life, as well as Managing Editor of KenWilber.com. He has worked for Integral Institute/Integal Life since Spring of 2003, and has been a student of integral theory and practice since 1996. Corey is also a professional woodworker, and many of his artworks can be found in his VisionLogix art gallery.