A Stunning Announcement Shows the Power of Green Emergence
In this episode we look at the continued emergence of postmodern consciousness (green altitude), using a current example from the U.S. financial sector. Last week Laurence D. Fink, founder and chief executive of BlackRock, the world's largest investor fund, informed business leaders that if they want any of the the $6 trillion he invests they are going to have to serve a social purpose.
"To prosper over time," he said, "every company must not only deliver financial performance, but also show how it makes a positive contribution to society."
This is a sentiment that was anathema to the business community a generation ago, and actually opposed as counterproductive by respected economists such as Milton Friedman. But yesterday's financial heresy is going mainstream today. What's up? Emergence, the one thing we can count on…
Upcoming broadcasts
Stay tuned for new LIVE episodes of The Daily Evolver on Integral Live, every Tuesday and Thursday at 1 PM MST (12 PM EST, 3 PM EST)
[add_eventon_el number_of_months="5" ft_event_priority="yes" event_count="3" event_type="3607" tiles="yes" show_et_ft_img="yes" tile_count="3"]
WATCH ON INTEGRAL LIVE
Jeff Salzman worked with Ken Wilber for several years in building the Integral Institute. He is a co-founder of Boulder Integral, the first bricks-and-mortar venue dedicated to the development of integral consciousness. These days Jeff provides integrally-inspired commentary on politics and culture on Integral Life and The Daily Evolver.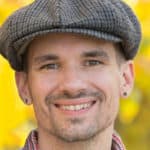 Corey W. deVos is Editor-in-Chief of Integral Life, as well as Managing Editor of KenWilber.com. He has worked for Integral Institute/Integal Life since Spring of 2003, and has been a student of integral theory and practice since 1996. Corey is also a professional woodworker, and many of his artworks can be found in his VisionLogix art gallery.