[dzs_videogallery id="spiritlaw-01-free"]
Please log in to see the full 1.5 hour episode.
Or listen to the full audio version by subscribing to our free Everyone Is Right podcast!
Become a member today to watch this
video presentation

and support the global emergence of Integral consciousness
Membership benefits include:
Live Experiences
Stay connected by participating in Integral Life live events and discussions
Free Bonus Gifts
Download The Integral Vision eBook by Ken Wilber (worth $19 on Amazon) & The Ken Wilber Biography Series
Support of the movement
Support our mission of educating and spreading integral consciousness that is more critical than at any time in its history
Learn more about membership plans →
In this new monthly series with Mark Fischler, we take a look at some of the most pressing and most complex issues of our time through the lens of Integral Law. In this special premiere episode Mark describes his own background, how he arrived at this fascinating intersection between the integral world and the legal world, and what exactly he means by the phrase "integral law".
Mark and Corey then turn their attention to the big story of our day — the Mueller report — offering their own views about the investigation, Attorney General William Barr's summary of Mueller Report, and how this story might play out in the weeks and months to come.
Topics include:
What is "Integral Law"?
What were the origins of the Mueller investigation?
What were the main conclusions of the Mueller report, as summarized by William Barr?
What are the different kinds of "burden of proof", and how do they apply to this investigation?
Does the Mueller report (or what we know about it) actually exonerate President Trump?
If Mueller's investigation did not surface evidence "beyond a reasonable doubt" of Trump conspiring with Russia to influence the 2016 election, does that mean the entire investigation by the FBI and the media was a sham? Or was the investigation justified, regardless of the evidence it reveals?
If the Mueller report does end up providing evidence of Trump's complicity, should Democrats move to impeach him?
What do you think? This conversation represents the views of two enthusiastic integralists — but as is the case with all views, reasonable people can disagree. Let us know if you have any questions about this discussion, or any questions you would like us to explore in future episodes, by filling out the form to the right.
---
Ask a Question
[ninja_form id=5]
---
---
Upcoming broadcasts
Stay tuned for new LIVE episodes of The Ken Show on Integral Live, every second Saturday at 2PM PT, 5PM ET)
[add_eventon_el number_of_months="5″ ft_event_priority="yes" event_count="3″ event_type="4456″ tiles="yes" show_et_ft_img="yes" tile_count="3″]
WATCH ON INTEGRAL LIVE
Mark Fischler is a Professor of Criminal justice and current program coordinator for the criminal justice and criminology programs at Plymouth State University. Prior to joining the Plymouth State faculty, he practiced law, representing poor criminal defendants for the New Hampshire Public Defender's Office. Mark has worked extensively with alternative theoretical models in law, constitutional law, and higher education, and has published on integral applications to teaching, being a lawyer, and legal theory. His focus in the classroom is ethics and criminal procedure, and is well respected for a teaching philosophy that emphasizes recognizing the humanity and dignity of each student. Professor Fischler was awarded the outstanding teaching award at his university in 2014. He currently offers a weekly Spiritual Inquiry class through Satya Yoga Studio.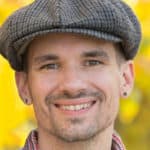 Corey W. deVos is Editor-in-Chief of Integral Life, as well as Managing Editor of KenWilber.com. He has worked for Integral Institute/Integal Life since Spring of 2003, and has been a student of integral theory and practice since 1996. Corey is also a professional woodworker, and many of his artworks can be found in his VisionLogix art gallery.