Our collective challenges are so enormous and often so abstract, while our individual actions feel so small in comparison, which leaves many of us with a sense of helplessness that can quickly slide into apathy, cynicism, and civic paralysis.
As Terry asks in his introduction, "The alarm is sounding, all hands on deck. Okay, I want to be a part of that solution, I want to embody the health of everything good, true, and beautiful. I want to enact that, here in the world. How do I do that?"
That is what we are here to explore.
Watch as Terry, Corey, and our live viewers discuss the integral moral imperative to engage more deeply with the many systems we are governed by, and to show up more fully in a world that is getting better and better, worse and worse, faster and faster — and crying out for the sort of integral solutions that only you can begin to provide.
Topics include:
How previously abstract problems like climate change are now beginning to have more obvious impacts in our lives.
How the

integral map

allows us to identify and frame our global problems, but integral wisdom is needed to find the solutions.
How "waking up, growing up," and "cleaning up" is all about doing our own personal work, while "showing up" requires us to share the fruits of that work with the rest of the world.
How to tell the difference between genuine "sacred activism" and egoic "virtue signaling".
The different activist roles for younger and older generations.
Are integral political analyses too embedded in

postmodern

views? Or do anti-postmodern allergies prevent some people from receiving integral views?
A vision to address our environment, economy, politics, culture, and to catalyze the radical whole-system change we need now
Recasting current problems as emergent opportunities, Terry Patten offers creative responses, practices, and conscious conversations for tackling the profound inner and outer work we must do to build an integral future. In practical and personal terms, he discusses how we can all become active agents of a transformation of human civilization and why that is necessary to our continued survival. Patten's narrative focuses on two aspects of existence — our dynamic but fractured and threatened world, and our underlying wholeness and unity.
Only by honoring both of these realities simultaneously can we make sustainable changes in ourselves, our communities, our body politic, and our planetary life-support system. A New Republic of the Heart provides a comprehensive understanding and inspiring vision for "being the change" in a way that can address the most intractable problems of our time. Patten shows how we can come together in our communities for conversations that matter and describes new communities, enterprises, and forms of dialogue that integrate both inner personal growth work with outer awareness, activism, and service.
An integral coach, consultant, teacher, and author of four books, Terry's work focuses on serving "the integral heart" by evolving the leading edge of leadership and practice. He was the senior writer and co-author, with Ken Wilber, of Integral Life Practice: A 21st-Century Blueprint for Physical Health, Emotional Balance, Mental Clarity, and Spiritual Awakening.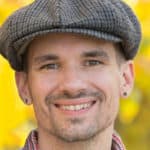 Corey W. deVos is Editor-in-Chief of Integral Life, as well as Managing Editor of KenWilber.com. He has worked for Integral Institute/Integal Life since Spring of 2003, and has been a student of integral theory and practice since 1996. Corey is also a professional woodworker, and many of his artworks can be found in his VisionLogix art gallery.