Become a member today to watch this
video presentation

and support the global emergence of Integral consciousness
Membership benefits include:
Live Experiences
Stay connected by participating in Integral Life live events and discussions
Free Bonus Gifts
Download The Integral Vision eBook by Ken Wilber (worth $19 on Amazon) & The Ken Wilber Biography Series
Support of the movement
Support our mission of educating and spreading integral consciousness that is more critical than at any time in its history
Learn more about membership plans →
There is a hidden subtext lurking behind the Trump reality show, US political gridlock, and the Kavanaugh confirmation showdown. Yes, it's certainly a clash of worldviews. But it's also about racial and cultural tribes. And it's even about gender roles and identities.
A new unapologetic consciousness is rising among young white men. It's been galvanized by many things — not just reactions to the decline of masculine privilege and the rise of women's power, not just to "involuntary celibacy" and LGBTQ rights. It has a positive current, in which many young men are rediscovering self-respect and self-discipline, inspired by Jordan Peterson and others. They're breaking addictions — to substances, habits, and even internet pornography. They're getting inspired to co-create a new future based on blockchain and cryptocurrency, many negatively in the form of apocalyptic survivalist movements. A sizable contributor to the ugliness on display at Charlottesville in 2017 came from some of the least healthy of these rootless young white men.
Terry Patten is inspired by a whole new wave of feminine leadership, and he's excited about the new possibilities for cross-gender partnership and co-leadership. But he thinks that white male heroism has an important necessary role in the time ahead. And he has some speculations about how that might express itself in our current fraught political moment.
Cultural and political fissures are beginning to open, following the lines dividing mature "wise" conservatives and those captive to "expert" action-logic and populism. And he has a specific vision for an alliance between members of the "aristocracy of wisdom" on the left and the right" to transform the current political stuckness in the USA into a rich productive evolutionary dialectic.
Watch as Terry Patten and Corey deVos explore all this and more.
START YOUR INTEGRAL LIFE FOR JUST $1
All content, practices, videos, and more — just $1 for the first 30 days.
Only $15/month after that.
CLICK HERE TO START YOUR INTEGRAL LIFE
Free signup bonus #1
The Ken Wilber Biography Series
(retail price $75)
Free signup bonus #2
The Integral Vision
free eBook
An integral coach, consultant, teacher, and author of four books, Terry's work focuses on serving "the integral heart" by evolving the leading edge of leadership and practice. He was the senior writer and co-author, with Ken Wilber, of Integral Life Practice: A 21st-Century Blueprint for Physical Health, Emotional Balance, Mental Clarity, and Spiritual Awakening.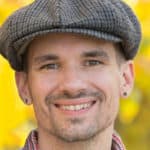 Corey W. deVos is Editor-in-Chief of Integral Life, as well as Managing Editor of KenWilber.com. He has worked for Integral Institute/Integal Life since Spring of 2003, and has been a student of integral theory and practice since 1996. Corey is also a professional woodworker, and many of his artworks can be found in his VisionLogix art gallery.