W
atch as Ryan and Corey reflect on the results of the 2020 Presidential Election, exploring its implications for the world and within our own hearts, while also creating a space where we can begin to release some of the fears and anxieties many of us have been struggling with during these chaotic and uncertain times.
What is our work going forward? How can we begin to heal the deep ruptures that have formed in our society?
What sorts of personal and political shadows have emerged for us over the last few years, and how can we better manage and re-integrate those shadows?
How can we learn to set our political views and identities aside, so that we can find a deeper and more fulfilling connection with each other?
How do we skillfully engage with friends and family members who subscribe to unfalsifiable narrative realities such as QAnon?
After years of social fragmentation and media balkanization, how can we possibly begin to put Humpty Dumpty back together again?
We hope you enjoy this special post-election episode of Inhabit! Let us know what you think in the comments below.
Written by Corey deVos
Music by Justin Miles and Stuart Davis
Free Email Course: Build Your Integral Life
We created 24 free lessons that can help you learn the Integrative Mindset needed to thrive in the rapidly-evolving world of the 21st century. Enter your email to start the course:
Previous Episodes of Inhabit
Corey deVos
September 15, 2022
2 Replies
Ryan and Corey explore the idea that every moment is a bardo, a transition from one state of being to...
Watch Now
+View All
---
EMERGE — HOW TO THRIVE IN A WORLD GONE MAD
These chaotic times bring us in touch with what matters most, whispers of death and rebirth, as our global life conditions passionately usher us toward all of what could be, of what wants to emerge in your life.
Emerge is a new training program by Ryan Oelke, offering a thoughtful 3-phase process that will empower you to fully inhabit your experience, more deeply relate in real-time to life, and to formulate agile paths of response and action. With this embodied integral training, you will both be more passionately inspired from the core of your being and you will more successfully see the change, experiences, and results you and we long for and need in this moment and in the future.
Learn how Emerge can help you find traction for your transformation
---
Ryan Oelke is a co-founder of Buddhist Geeks and founder of Awakening in Life. He has an MSEd in counseling psychology and is contemplative teacher of awakening, healing, and embodiment. He has 18 years experience in meditation, particularly in the Tibetan Buddhist and Dzogchen lineages, he is a Buddhist Geeks teacher, and is a fully certified teacher in Judith Blackstone's Realization Process. Ryan teaches meditation and a way of living dedicated to revealing natural presence and awakening in each moment of our lives, regardless of how it appears to us. He lives in the beautiful mountains of Asheville, NC with his partner Alyssa and stepdaughter Fiona.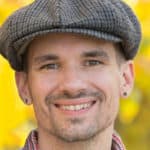 Corey W. deVos is Editor-in-Chief of Integral Life, as well as Managing Editor of KenWilber.com. He has worked for Integral Institute/Integal Life since Spring of 2003, and has been a student of integral theory and practice since 1996. Corey is also a professional woodworker, and many of his artworks can be found in his VisionLogix art gallery.