I
n this free discussion, Ryan and Corey offer some simple practices and perspectives to help keep us grounded and engaged during this transition not only into a new year, but into a whole new decade, with a whole new set of possibilities, challenges, and life conditions emerging all around us.
Whenever our environment changes around us, even something as simple as the calendar moving into a new year, it's an opportunity to also change our interiors. We tend to move naturally into a more reflective space at the end of the year, reviewing the previous year and imagining the one to come, cycling through a process of making an entire year's worth of accumulated subjects into objects: all of our decisions, all of our successes, all of our regrets, etc. It's a chance to take inventory of our own lives — where we've been, where we're at, and where we would like to go next.
Just because the world around us seems to be in more turmoil than ever before, doesn't mean our inner lives need to feel that way too. And as the world continues to become more and more chaotic, conversations like these invite you to discover the unmovable subject within yourself, so that you can cultivate the resilience, equanimity, and stamina required to bring your gifts more fully into the world.
Because now more than ever, the world needs you. Something new is trying to emerge. And it can only emerge through you.
Written by Corey deVos
Music by Justin Miles and Stuart Davis
Previous Episodes of Inhabit
Corey deVos
September 15, 2022
2 Replies
Ryan and Corey explore the idea that every moment is a bardo, a transition from one state of being to...
Watch Now
+View All
---
EMERGE — HOW TO THRIVE IN A WORLD GONE MAD
While New Year's resolutions often lead to disappointment, this time of the year is still an incredibly ripe and potent time for reflection and to set our course anew.
The spirit of the holidays brings us in touch with what matters most, winter whispers of death and rebirth, and the new year passionately ushers us toward all of what could be, of what wants to emerge in your life.
Emerge is a new training program by Ryan Oelke, offering a thoughtful 3-phase process that will empower you to fully inhabit your experience, more deeply relate in real-time to life, and to formulate agile paths of response and action. With this embodied integral training, you will both be more passionately inspired from the core of your being and you will more successfully see the change, experiences, and results you and we long for and need in this moment and in the future.
Learn how Emerge can help you find traction for your transformation
Ryan Oelke is a co-founder of Buddhist Geeks and founder of Awakening in Life. He has an MSEd in counseling psychology and is contemplative teacher of awakening, healing, and embodiment. He has 18 years experience in meditation, particularly in the Tibetan Buddhist and Dzogchen lineages, he is a Buddhist Geeks teacher, and is a fully certified teacher in Judith Blackstone's Realization Process. Ryan teaches meditation and a way of living dedicated to revealing natural presence and awakening in each moment of our lives, regardless of how it appears to us. He lives in the beautiful mountains of Asheville, NC with his partner Alyssa and stepdaughter Fiona.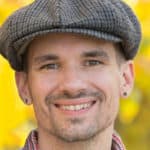 Corey W. deVos is Editor-in-Chief of Integral Life, as well as Managing Editor of KenWilber.com. He has worked for Integral Institute/Integal Life since Spring of 2003, and has been a student of integral theory and practice since 1996. Corey is also a professional woodworker, and many of his artworks can be found in his VisionLogix art gallery.