Corey deVos talks to Lynn Fuentes about his daughter's Biliary Atresia diagnosis when she was just a few months old, her subsequent liver transplant a year later, and her ongoing recovery today. Corey also shares some of the little wisdoms that have ripened for him during his family's journey. It was a fantastic and very touching interview, and we invite you all to check it out.
Image: Hide and Seek by Sheri Munce [+view gallery]
Reflections
As you listen to this discussion, you can use the Notes app in the bottom-left corner of your screen to record any reflections that may come up for you.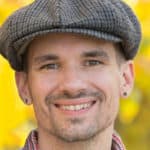 Corey W. deVos is Editor-in-Chief of Integral Life, as well as Managing Editor of KenWilber.com. He has worked for Integral Institute/Integal Life since Spring of 2003, and has been a student of integral theory and practice since 1996. Corey is also a professional woodworker, and many of his artworks can be found in his VisionLogix art gallery.
Lynn is a college instructor, educational course designer, and a mediator with a BA, MA, JD, and PhD. An experienced classroom and online instructor, she has designed and taught courses in transpersonal psychology, writing, planning, chronic illness, and conflict management at DePaul University, where she also founded and directed the Chronic Illness Initiative, a program to help students with chronic illness obtain a degree.