[dzs_video source="https://vimeo.com/239728981″ config="IntegralLife1″ width="100%" height="675″ responsive_ratio="detect" extra_classes_player="with-bottom-shadow"]
Our dear friend Miriam Mason Martineau joins us to explore the exceptionally rich topic of integral parenting.
It's hard to imagine a more important, more meaningful, or more immediately fulfilling application of integral thought and practice than this one. Miriam's web course, Parenting as a Spiritual Practice, offers a direct path to the deepest heart of integral parenting — a conscious path of Waking Up, Growing Up, Cleaning Up, and Showing Up, both for yourself and for your child. Watch as Miriam illuminates this path for all of us, helping you raise your own family with unyielding wisdom, grace, skill, and compassion.
About Parenting as a Spiritual Practice
If you'd like to deepen your exploration of Parenting as a Spiritual Practice, we invite you to join Miriam in an 8-week transformative online course — an invaluable resource for all current or aspiring parents. This incredible web course begins on October 23, and runs until December 18. It's not too late to sign up for this course. Miriam has designed this program to make it very easy for you to catch up on any missed lessons, so we encourage you to sign up today!
As parents, we see it all — the fullest spectrum of growth, awakening, pressures, and potentials. All of it shows up within our children, and all of it has a direct influence on how we relate to them as parents. We are literally shaping the faces of tomorrow, and it really helps to find some genuine wisdom to ground and guide us.
Miriam's insight, guidance, and embodiment of integral principles is a true gift, and this course offers powerful perspectives and practices to discover the unshakable bedrock of love, presence, and consciousness at the core of our being. We truly hope you can join Miriam in what promises to be a profoundly transformative experience, for both you and your little ones.
Click here to learn more
Upcoming broadcasts
Stay tuned for new LIVE episodes of The Daily Evolver on Integral Live, every Tuesday and Thursday at 1 PM MST (12 PM EST, 3 PM EST)
[add_eventon_el number_of_months="5" ft_event_priority="yes" event_count="3" event_type="3607" tiles="yes" show_et_ft_img="yes" tile_count="3"]
WATCH ON INTEGRAL LIVE
Miriam Mason Martineau, M.A., is trained in the areas of psychology, dance, choreography, and voice. She has a Masters Degree in Psychology from the University of Zurich, with a specialization in Youth and Child Psychology, and is also a certified teacher of Laban Modern Dance, as well as a singer and vocal instructor.
Jeff Salzman worked with Ken Wilber for several years in building the Integral Institute. He is a co-founder of Boulder Integral, the first bricks-and-mortar venue dedicated to the development of integral consciousness. These days Jeff provides integrally-inspired commentary on politics and culture on Integral Life and The Daily Evolver.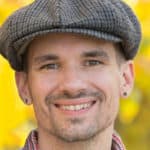 Corey W. deVos is Editor-in-Chief of Integral Life, as well as Managing Editor of KenWilber.com. He has worked for Integral Institute/Integal Life since Spring of 2003, and has been a student of integral theory and practice since 1996. Corey is also a professional woodworker, and many of his artworks can be found in his VisionLogix art gallery.