W
elcome to INHABIT — a monthly practice-based series with Ryan Oelke and Corey deVos, designed to help you embody your own unique expression of integral being and more fully inhabit the territory of your life, your relationships, and your world.
Integral itself can often feel like such a cognitive and intellectual pursuit. Although the map itself invites us to practice integral consciousness in our hearts and bodies as much as our minds, we often tend to lead with our heads, and it can take a great deal of practice and rewiring of our lifestyles before we really feel like we are beginning to embody our own fullest integral power. It's not hard to find ourselves stuck in the endless abstractions of our own mental models, which can limit our fullest possible expression of integral consciousness. Adding to the challenge, Integral is coming of age during the era of social media, where the dominant mode of discourse is often so disembodied and sometimes even dehumanizing.
This is why Ryan and Corey are doing this show — to help create more embodied practice, more embodied relating, and more embodied methods of showing up as fully as you can in order to make a positive dent in this world. Every month Ryan will lead us in guided practice to help strengthen the link between your mind and your body, between your knowledge and your wisdom, between your being and your doing. All so you can show up as the super-charged integral powerhouse you know you are.
We want you to be a regular part of this show. Each episode, we will take questions from our viewers, giving you an opportunity to share the fruits of your practice with the rest of us, as well as receive guidance around areas you find particularly challenging. So we invite you to join the live discussions as often as you can, and to offer us feedback whenever you feel like you have something you want to share. And be sure to let us know what you think in the comments below.
In the meantime, please enjoy this special inaugural episode of INHABIT with Ryan Oelke and Corey deVos!
Links mentioned in this episode
Previous Episodes of Inhabit
Corey deVos
September 15, 2022
2 Replies
Ryan and Corey explore the idea that every moment is a bardo, a transition from one state of being to...
Watch Now
Corey deVos
April 26, 2022
4 Replies
What are the unique challenges that prevent you from inhabiting your most authentic and embodied voice, and how can integral...
Watch Now
+View All
Ryan Oelke is a co-founder of Buddhist Geeks and founder of Awakening in Life. He has an MSEd in counseling psychology and is contemplative teacher of awakening, healing, and embodiment. He has 18 years experience in meditation, particularly in the Tibetan Buddhist and Dzogchen lineages, he is a Buddhist Geeks teacher, and is a fully certified teacher in Judith Blackstone's Realization Process. Ryan teaches meditation and a way of living dedicated to revealing natural presence and awakening in each moment of our lives, regardless of how it appears to us. He lives in the beautiful mountains of Asheville, NC with his partner Alyssa and stepdaughter Fiona.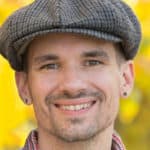 Corey W. deVos is Editor-in-Chief of Integral Life, as well as Managing Editor of KenWilber.com. He has worked for Integral Institute/Integal Life since Spring of 2003, and has been a student of integral theory and practice since 1996. Corey is also a professional woodworker, and many of his artworks can be found in his VisionLogix art gallery.