---
---
"Every moment is a bardo. Every moment is a death, and an opportunity for new life."Corey deVos
In the Buddhist tradition, the "bardo" refers to the transitional state between lifetimes, a liminal state (or series of states) between death and birth. There are no shortage of practices designed to help us prepare for this ultimate transition — to "practice dying", as Plato instructed his disciples to do. As Ken Wilber says,
"All spiritual practice is a rehearsal—and at its best, an enactment—of death. As the mystics put it, 'If you die before you die, then when you die, you won't die.' In other words, if right now you die to the separate-self sense, and discover instead your real Self which is the entire Kosmos at large, then the death of this particular bodymind is but a leaf falling from the eternal tree that you are."
However, this is not a conversation about death. It is a conversation about life. It's about recognizing the fact that every moment is a bardo, a transition from one state of being to another state of being — and within these ubiquitous transitions there are opportunities to transcend the karmas of our conditioning, and to channel new kinds of creativity into the world.
This discussion is an open-hearted celebration of transition, an appreciation of the fact that there is never any real solid ground beneath our feet, because nothing is truly solid or lasting in this manifest world. We know that, in this reality, "energy cannot be created or destroyed, only changed" — which means that only the changing is real. Creation and destruction, birth and death, are illusions arising from the temporary semi-stable patterns of organization that forever exist in their own perpetual state of transition. The only truly permanent ground we can ever hope to find is the Ground of Being itself, which never actually enters the stream of time to begin with, but nonetheless infuses and envelopes the whole of manifest reality.
We hope that this conversation will help you participate more consciously with the ever-changing flow of your own life, and to find new ways to harness the creative engine at the very core of this transitional moment right now.
We hope you enjoy this discussion! Let us know what you think in the comments below.
Written and produced by Corey deVos
This episode is dedicated to the loving memory of Bardo Hochachka.

---
---
Related Media
Andrew Holecek and Ken Wilber
We all hope for a good death. This will help you prepare for a great one. Okay, I'm Dead is a 30-part exploration of conscious dying, offering a comprehensive guide to the many stages of the death and dying process. Based largely upon the timeless teachings of the Tibetan Book of the Dead, this program is for everyone who has a heartbeat. Because someday, you won't.
---
---
---
Ryan Oelke and Corey deVos
Ryan and Corey explore the many ways we can create meaning for ourselves, introducing the concept of "Integral Ikigai" to help us find and fulfill our deepest life purpose.
---
---
Father Thomas Keating
In this deeply moving reflection, Father Thomas Keating offers a personal glimpse into his own spiritual practice, allowing us precious insight into the heart and mind of one of the world's most cherished mystics. Watch as Fr. Keating shares how his innermost experience of the sacred continues to transform as he approaches the twilight years of his life, and feel for yourself the incredible warmth and grace that radiates as the translucent skin of mortality gets peeled away layer by layer, revealing an unshakable mountain of timeless consciousness beneath.
---
---
Free Email Course: Build Your Integral Life
We created 24 free lessons that can help you learn the Integrative Mindset needed to thrive in the rapidly-evolving world of the 21st century. Enter your email to start the course:
---
---
Previous Episodes of Inhabit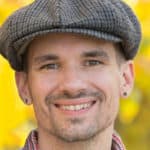 Corey W. deVos is Editor-in-Chief of Integral Life, as well as Managing Editor of KenWilber.com. He has worked for Integral Institute/Integal Life since Spring of 2003, and has been a student of integral theory and practice since 1996. Corey is also a professional woodworker, and many of his artworks can be found in his VisionLogix art gallery.
Ryan Oelke is a co-founder of Buddhist Geeks and founder of Awakening in Life. He has an MSEd in counseling psychology and is contemplative teacher of awakening, healing, and embodiment. He has 18 years experience in meditation, particularly in the Tibetan Buddhist and Dzogchen lineages, he is a Buddhist Geeks teacher, and is a fully certified teacher in Judith Blackstone's Realization Process. Ryan teaches meditation and a way of living dedicated to revealing natural presence and awakening in each moment of our lives, regardless of how it appears to us. He lives in the beautiful mountains of Asheville, NC with his partner Alyssa and stepdaughter Fiona.