"I think that living an integral life — it means exactly that, it means living a fully, comprehensively integral life, which means you are bringing these perspectives to everything that you experience — whether it's watching Sharknado or it's watching a film like Grace and Grit, or it's losing yourself in a fantasy series like Lord of the Rings — whatever it is, there's an opportunity for us to bring more consciousness and more awareness. And we can notice how integral ideas and perspectives actually open up new channels of meaning within a particular artwork."Corey deVos
The Art of Conscious Recreation
I
n this episode, Corey deVos and Ryan Oelke explore how to more fully inhabit our art and entertainment. We tend to think of "recreation" as a passive activity, but we actually share an active symbiotic relationship with our art and entertainment, both personally and culturally. We create art, which in turn re-creates us. We are constantly taking in the symbolism and themes and ideas from our surrounding cultural artifacts and reconstructing them as reference points for our own thinking, which then shapes the way we interpret and make sense of the world, whether consciously or unconsciously.
We are re-creating ourselves time and time again every time we engage with our favorite films, music, books, television shows, etc. The goal here is to escape the cynically critical inertias of a culture that tends to define its tastes in negative space, and find a way to bring this ongoing cycle of re-creation into consciousness as much as we can — the art of conscious recreation.
After all, who among us doesn't have both an inner Tiger King and an inner Ted Lasso living somewhere inside us?
Art is not inert, and our enjoyment of art is anything but passive. We have a deeply psychoactive relationship with our art and entertainment, often revealing territories within us that we never knew were there, and these psychoactive qualities largely depend on the kosmic address of both the artist and the observer. In this episode we hope to make some of these psychoactive properties a bit more noticeable, and demonstrate how integral perspectives can radically increase our enjoyment and appreciation of art and culture. It's not just about enjoying integral art, but enjoying art integrally.
Topics include:
0:00 — The Art of Conscious Recreation
21:39 — Why Are We Talking About Entertainment?
29:31 — Grace and Grit: An Integral Appreciation
44:52 — Integral Art vs. Enacting Art Integrally
49:23 — The Spiritual Awakening of Nine Inch Nails
1:01:22 — Cutting Through Cynicism: Ted Lasso, Life Coach
1:05:50 — Looking Forward
Written by Corey deVos
Music by Justin Miles and Stuart Davis

Previous Episodes of Inhabit
Corey deVos
September 15, 2022
2 Replies
Ryan and Corey explore the idea that every moment is a bardo, a transition from one state of being to...
Watch Now
+View All
---
---
Related Media
---
Ryan Oelke and Corey deVos
Corey and Ryan take you on a cinematic journey through the stages of human development, using a series of 21 carefully-curated film clips to illustrate some of the most important qualities of each stage. Why film clips? Simple — it's fun! Plus, these clips are from some of the most popular films from the last 80 years, commonly-shared reference points that most of us are already familiar with. This gives us the opportunity to put together one of the most accessible, friendly, and entertaining ways to introduce these important ideas to newcomers.
---
---
Corey deVos and Ryan Oelke
In this continuation of our "integral media" series, Ryan and Corey take another look at the major stages of human development, this time using a series of 33 video games in order to illustrate the qualities and characteristics of each stage. All of this allows you to not only observe these stages within you, but to actively inhabit, engage, and play with them as well.
---
---
Free Email Course: Build Your Integral Life
We created 24 free lessons that can help you learn the Integrative Mindset needed to thrive in the rapidly-evolving world of the 21st century. Enter your email to start the course:
---
EMERGE — HOW TO THRIVE IN A WORLD GONE MAD
These chaotic times bring us in touch with what matters most, whispers of death and rebirth, as our global life conditions passionately usher us toward all of what could be, of what wants to emerge in your life.
Emerge is a new training program by Ryan Oelke, offering a thoughtful 3-phase process that will empower you to fully inhabit your experience, more deeply relate in real-time to life, and to formulate agile paths of response and action. With this embodied integral training, you will both be more passionately inspired from the core of your being and you will more successfully see the change, experiences, and results you and we long for and need in this moment and in the future.
Learn how Emerge can help you find traction for your transformation
---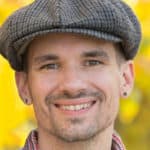 Corey W. deVos is Editor-in-Chief of Integral Life, as well as Managing Editor of KenWilber.com. He has worked for Integral Institute/Integal Life since Spring of 2003, and has been a student of integral theory and practice since 1996. Corey is also a professional woodworker, and many of his artworks can be found in his VisionLogix art gallery.
Ryan Oelke is a co-founder of Buddhist Geeks and founder of Awakening in Life. He has an MSEd in counseling psychology and is contemplative teacher of awakening, healing, and embodiment. He has 18 years experience in meditation, particularly in the Tibetan Buddhist and Dzogchen lineages, he is a Buddhist Geeks teacher, and is a fully certified teacher in Judith Blackstone's Realization Process. Ryan teaches meditation and a way of living dedicated to revealing natural presence and awakening in each moment of our lives, regardless of how it appears to us. He lives in the beautiful mountains of Asheville, NC with his partner Alyssa and stepdaughter Fiona.