"The alarming fact is that any realization of depth carries a terrible burden: Those who are allowed to see are simultaneously saddled with the obligation to communicate that vision in no uncertain terms: that is the bargain. You were allowed to see the truth under the agreement that you would communicate it to others (that is the ultimate meaning of the bodhisattva vow). And therefore, if you have seen, you simply must speak out. Speak out with compassion, or speak out with angry wisdom, or speak out with skillful means, but speak out you must."

Ken Wilber, One Taste
What does it mean to be a bodhisattva in the 21st century?
In the Buddhist tradition, a Bodhisattva is someone whose pursuit of enlightenment has become inseparable from the enlightenment of other beings, and have dedicated their lives (multiple lifetimes, in fact) to practicing compassion and helping others to wake up — even postponing their own "final" enlightenment until all other beings have become similarly awakened.
In this episode Ryan and Corey are joined by our very good friend Vincent Horn, co-founder of Buddhist Geeks, in order to discuss Ryan and Vince's decision to fully embrace the Bodhisattva Vow in their lives and in their spiritual practice. What unfolds is a fun and fascinating conversation about compassion, commitment, purpose, meaning, and skillful means — as well as some much-needed guidance to help us bring ourselves into deeper alignment with our own inner Bodhisattva, regardless of whatever spiritual tradition (or lack thereof!) that we find ourselves in.
Written by Corey deVos
Music by Justin Miles and Stuart Davis

Previous Episodes of Inhabit
Corey deVos
September 15, 2022
2 Replies
Ryan and Corey explore the idea that every moment is a bardo, a transition from one state of being to...
Watch Now
Corey deVos
April 26, 2022
4 Replies
What are the unique challenges that prevent you from inhabiting your most authentic and embodied voice, and how can integral...
Watch Now
+View All
---
---
The Fourth Turning: Exploring the Future of Buddhism
The Fourth Turning program features in-depth explorations of the evolution of Buddhism — where it's been, where it is, where it's going—while offering a powerful and comprehensive guide for enlightened living in the 21st century.
In this course you will find a staggering 24 hours of high-definition video teachings by Ken Wilber and some of our most treasured Buddhist teachers: Diane Musho Hamilton, Doshin Michael Nelson Roshi, Patrick Sweeney, and Andrew Holecek.
Learn more about the Fourth Turning of Buddhism
---
Related Media
---
Ryan Oelke and Corey deVos
Ryan and Corey explore the many ways we can create meaning for ourselves, introducing the concept of "Integral Ikigai" to help us find and fulfill our deepest life purpose. "Ikigai" is a classic Japanese concept that basically translates as "a reason for being", which invites us to look at our own life purpose from four different angles — what we love, what we are good at, what the world needs, and how we make our living. Ryan and Corey take this tremendously insightful model and add a few new layers, enacting it through the lens of integral metatheory in order to find a path of meaning and purpose that can meet you wherever you are in your own developmental arc.
---
---
Ryan Oelke and Corey deVos
Corey and Ryan take you on a cinematic journey through the stages of human development, using a series of 21 carefully-curated film clips to illustrate some of the most important qualities of each stage. Why film clips? Simple — it's fun! Plus, these clips are from some of the most popular films from the last 80 years, commonly-shared reference points that most of us are already familiar with. This gives us the opportunity to put together one of the most accessible, friendly, and entertaining ways to introduce these important ideas to newcomers.
---
---
Corey deVos and Ryan Oelke
In this continuation of our "integral media" series, Ryan and Corey take another look at the major stages of human development, this time using a series of 33 video games in order to illustrate the qualities and characteristics of each stage. All of this allows you to not only observe these stages within you, but to actively inhabit, engage, and play with them as well.
---
---
Free Email Course: Build Your Integral Life
We created 24 free lessons that can help you learn the Integrative Mindset needed to thrive in the rapidly-evolving world of the 21st century. Enter your email to start the course:
---
Vince Fakhoury Horn is part of a new generation of teachers, facilitators, & translators bringing dharma to life. A computer engineering dropout turned full-time contemplative, Vince spent his 20s co-founding the ground-breaking Buddhist Geeks podcast, while simultaneously doing a full year, in total, of silent retreat practice. Vincent began teaching in 2010 and has since been authorized in both the Pragmatic Dharma lineage of Kenneth Folk, and by Trudy Goodman, guiding teacher of InsightLA. Vince has been called a "power player of the mindfulness movement" by Wired magazine and was featured in Wired UK's "Smart List: 50 people who will change the world." He currently lives in the Blue Ridge Mountains outside of Asheville, North Carolina with his partner Emily Horn and their son Zander.
Ryan Oelke is a co-founder of Buddhist Geeks and founder of Awakening in Life. He has an MSEd in counseling psychology and is contemplative teacher of awakening, healing, and embodiment. He has 18 years experience in meditation, particularly in the Tibetan Buddhist and Dzogchen lineages, he is a Buddhist Geeks teacher, and is a fully certified teacher in Judith Blackstone's Realization Process. Ryan teaches meditation and a way of living dedicated to revealing natural presence and awakening in each moment of our lives, regardless of how it appears to us. He lives in the beautiful mountains of Asheville, NC with his partner Alyssa and stepdaughter Fiona.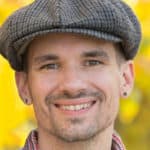 Corey W. deVos is Editor-in-Chief of Integral Life, as well as Managing Editor of KenWilber.com. He has worked for Integral Institute/Integal Life since Spring of 2003, and has been a student of integral theory and practice since 1996. Corey is also a professional woodworker, and many of his artworks can be found in his VisionLogix art gallery.