H
abituation is the enemy of growth. It is rare for any circumstance to force us completely out of our accumulated habits, patterns, and comfort zones — which is exactly what is happening right now, as people all over the globe are having to drastically alter their lifestyles and livelihood in response to the corona pandemic.
The good news is, when this happens and our normal day-to-day inertias are interrupted, it's also an opportunity to make new choices: to recognize the patterns that haven't been working for you, and to begin cultivating new patterns that work better, that take you farther, that bring you greater resilience, deeper compassion, and more skillful responsiveness.
In times of extreme fragility such as these, it becomes all the more important to find new ways to practice our own anti-fragility. In this episode of Inhabit we are joined by special guest Keith Martin-Smith, an acclaimed author, teacher, and dear friend to the show, in order to explore key practices and postures to help us maintain our physical, mental, and spiritual health while enduring the painful realities that all of us are so immersed in right now.
Watch as we explore the importance of:
Spiritual practice (presence, equanimity, anti-fragility)

Shadow

practice (dealing with fear, anger, rage, and other strong emotions)
Mental practice (increased clarity, capacity to identify and integrate critical and often contradictory polarities, capacity to manage and navigate uncertainty)
Creative practice (staying connected and grounded, transmuting painful feelings and anxieties into beauty)
Embodiment practice (for physical and psychological resilience)
Safety and hygiene practices (to reduce chances of exposure)
Intimacy practice (empathy, connection, "more space less separation")
Financial practice (remaining sustainable in the midst of severe economic contraction)
If you enjoyed this discussion and want to deepen your own Integral Life Practice, we invite you to enjoy the resources we've made available on the Practice page of Integral Life. And if you need a bit of help wrapping your hear and heart around how to go about building an ILP for yourself or your family, be sure to check out this simple overview.
And if there are any topics or questions that you would like us to explore in future episodes of Inhabit, please let us know in the comments below, or by getting in touch with Corey. We are here to support you in whatever way possible — help us learn what that means for you.
Written by Corey deVos
Music by Justin Miles and Stuart Davis
Previous Episodes of Inhabit
Corey deVos
September 15, 2022
2 Replies
Ryan and Corey explore the idea that every moment is a bardo, a transition from one state of being to...
Watch Now
Corey deVos
April 26, 2022
4 Replies
What are the unique challenges that prevent you from inhabiting your most authentic and embodied voice, and how can integral...
Watch Now
+View All
---
EMERGE — HOW TO THRIVE IN A WORLD GONE MAD
These chaotic times bring us in touch with what matters most, whispers of death and rebirth, as our global life conditions passionately usher us toward all of what could be, of what wants to emerge in your life.
Emerge is a new training program by Ryan Oelke, offering a thoughtful 3-phase process that will empower you to fully inhabit your experience, more deeply relate in real-time to life, and to formulate agile paths of response and action. With this embodied integral training, you will both be more passionately inspired from the core of your being and you will more successfully see the change, experiences, and results you and we long for and need in this moment and in the future.
Learn how Emerge can help you find traction for your transformation
---
Related Media
---
Robb Smith and Corey deVos
The Transformation Age Series is a series of written articles and accompanying webcasts that Robb Smith will host for the Integral Life community in real-time as the Great Release (TGR) unfolds, giving rise to the Transformation Age.
---
---
---
Diane Musho Hamilton, Gail Hochachka, Cindy Lou Golin, Rob McNamara, and Corey deVos
Join Diane, Gail, Rob, Corey, and special guest Cindy Lou Golin for a very special discussion about the coronavirus pandemic and how to manage the tremendous fear, anxiety, and uncertainty that can arise from it. We also explore some of the hopeful opportunities and wisdoms that are being brought to the surface by our new set of global life conditions, as well as some of the possible paths toward anti-fragility that our society can take in the wake of this pandemic.
---
---
Jeff Salzman
Jeff takes a look at the Coronavirus pandemic, humanity's response to it, and how the integral lens helps us see more clearly the myriad forces and opportunities rising out of this crisis — which increases our wisdom, compassion, and resilience while dealing with it.
---
---
Diane Musho Hamilton, Gail Hochachka, Rob McNamara, Deb Collins, and Corey deVos
What is the difference between being "resilient" and being "antifragile"? In this fascinating episode of Integral Justice Warrior, Diane and Corey are joined by Gail Hochachka and Rob McNamara to explore anti-fragile approaches to climate change. We are also joined by fellow integral enthusiast Deb Collins, who offers her own perspectives around the tragic wild fires that swept across the Australian continent.
---
Ryan Oelke is a co-founder of Buddhist Geeks and founder of Awakening in Life. He has an MSEd in counseling psychology and is contemplative teacher of awakening, healing, and embodiment. He has 18 years experience in meditation, particularly in the Tibetan Buddhist and Dzogchen lineages, he is a Buddhist Geeks teacher, and is a fully certified teacher in Judith Blackstone's Realization Process. Ryan teaches meditation and a way of living dedicated to revealing natural presence and awakening in each moment of our lives, regardless of how it appears to us. He lives in the beautiful mountains of Asheville, NC with his partner Alyssa and stepdaughter Fiona.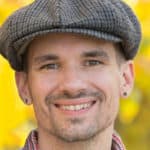 Corey W. deVos is Editor-in-Chief of Integral Life, as well as Managing Editor of KenWilber.com. He has worked for Integral Institute/Integal Life since Spring of 2003, and has been a student of integral theory and practice since 1996. Corey is also a professional woodworker, and many of his artworks can be found in his VisionLogix art gallery.
Keith Martin-Smith is an award-winning author, writing coach, and Zen priest. He is passionate about human connection, creativity, and evolution. His books include "The Mysterious Divination of Tea Leaves", "A Heart Blown Open", and "The Heart of Zen". His most recent book is his first novel, "Only Everything", a novel that explores the promise and the pain of following an artist's path.