---
Become a
supporting member

to watch the full conversation

Humanity is entering the Transformation Age, a new era of human civilization, with Integral Consciousness rising at its leading edge. Our members don't use Integral Life as just another media subscription they use weekly or discard. Instead, most stay with us for years, using Integral Life to learn Integral Philosophy and build an integral mind slowly, methodically and when they need it. We're here to help you shape the future that's emerging no matter where your life takes you.

Get Full Access For $1 (30 days)* Or explore all membership plans →

* Trial price for the first 30 days, then $20/month. Cancel or switch plans in 2 minutes at any time.
Following Keith's table-setting discussion of sex and gender last month, in this episode we push even further into the front lines of the culture war skirmishes that have become so plentiful over the last several years. Corey deVos joins Keith to discuss how our notions of sex, gender, and identity apply to some of the most contentious and pressing issues of our time — gender education in schools, men's rights issues, the banning of drag shows, trans people participating in sports, the availability of gender-affirming care for young people, the impact of social media on gender identity, and more.
In order to answer the question "what is a man" (or "what is a woman"), Keith and Corey carefully track sex, gender, and identity as fundamental aspects of the self that can exist in a state of fusion, differentiation, dissociation, or integration, depending on the developmental stage(s) the question is being asked from. This is one of the most common causes of conflict around this issue, as people have very different meanings of words like "gender", which can refer to biology, identity, or the various social constructs we have inherited, depending on where we are in this sequence. Which is why, when it comes to the question of gender, people are constantly talking past each other, and why the conversation often stalls at the level of ideological doctrine and debate, which we see so often in the culture wars. How can we elevate the discussion into a more fruitful dialogue, discourse, and dialectic? By properly differentiating and integrating these factors into a more coherent vision of sex, gender, and identity.
In a world where these topics often generate more heat than light, our aim is to bring clarity, insight, and a spirit of inclusive dialogue to the conversation. Our focus, as always, is bringing our most integral hearts and minds to these conflicts, so that we can provide the greatest opportunities for happiness, fulfillment, and freedom of expression for the greatest number of people, while also minimizing harm and promoting understanding, empathy, and respect among all parties involved.
Text, images, and maps by Corey deVos
Related Polarities
Here are some of the most critical polarities to consider while listening to this broadcast.
---
---
---
Keith Martin-Smith's When The Buddha Needs Therapy is now shipping!
It is possible to be liberated from the suffering of this world, but the path is a paradoxical one of embracing your ego even as you let it go. If you seek true liberation and freedom from the seemingly endless strife of life, you're in the right place.
---
---
---
Become a member today to watch this
video presentation

and support the global emergence of Integral consciousness
Membership benefits include:
Live Experiences
Stay connected by participating in Integral Life live events and discussions
Free Bonus Gifts
Download The Integral Vision eBook by Ken Wilber (worth $19 on Amazon) & The Ken Wilber Biography Series
Support of the movement
Support our mission of educating and spreading integral consciousness that is more critical than at any time in its history
Learn more about membership plans →
;show_playcount=false&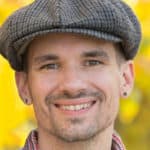 Corey W. deVos is Editor-in-Chief of Integral Life, as well as Managing Editor of KenWilber.com. He has worked for Integral Institute/Integal Life since Spring of 2003, and has been a student of integral theory and practice since 1996. Corey is also a professional woodworker, and many of his artworks can be found in his VisionLogix art gallery.
Keith Martin-Smith is an award-winning author, writing coach, and Zen priest. He is passionate about human connection, creativity, and evolution. His books include "The Mysterious Divination of Tea Leaves", "A Heart Blown Open", and "The Heart of Zen". His most recent book is his first novel, "Only Everything", a novel that explores the promise and the pain of following an artist's path.