W
e like to talk about human development around these parts. It is one of our favorite subjects. And when it comes to our own development, our adolescent years are by far the most rapid and the most potent period of our lives. It is a time of explosive interior growth, when multiple intelligences are moving through multiple waves of maturation in a very short timeframe, all while a newly independent identity is beginning to emerge for the very first time. Which is why this is often such a messy and confusing time in our lives (after all, there's a good reason we quarantine pubescent children away from the rest of society under the guise of "middle school").
Watch as Dr. Keith and I take a close look at this critical phase of our own development, noting all of the things that can go right (and many of the things that can go wrong) during this period of growth, and how we can be more supportive and responsive to the needs of our own children as they navigate this turbulent period of their lives. It is a precious reminder that we as parents are continuing to grow right alongside our children, and how much resiliency our children have when we inevitably mess something up. Which is largely the point, I think — to mess our own kids up just a little bit less than our parents messed us up.
And so goes the march of progress, where each generation can be ever-so-slightly less dysfunctional than the last.
Written by Corey deVos
Music by Justin Miles and Stuart Davis
Dr. Keith Witt
September 16, 2023
Alcohol addiction is a deeply entrenched issue that affects a significant portion of the population, with around 10% of children...
Watch Now
+View All
---
Become a member today to watch this
video presentation

and support the global emergence of Integral consciousness
Membership benefits include:
Live Experiences
Stay connected by participating in Integral Life live events and discussions
Free Bonus Gifts
Download The Integral Vision eBook by Ken Wilber (worth $19 on Amazon) & The Ken Wilber Biography Series
Support of the movement
Support our mission of educating and spreading integral consciousness that is more critical than at any time in its history
Learn more about membership plans →
Dr. Keith Witt is a Licensed Psychologist, teacher, and author who has lived and worked in Santa Barbara, CA. for over forty years. Dr. Witt is also the founder of The School of Love.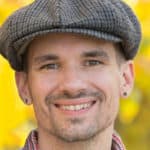 Corey W. deVos is Editor-in-Chief of Integral Life, as well as Managing Editor of KenWilber.com. He has worked for Integral Institute/Integal Life since Spring of 2003, and has been a student of integral theory and practice since 1996. Corey is also a professional woodworker, and many of his artworks can be found in his VisionLogix art gallery.