Become a
supporting member

to watch the full conversation

Humanity is entering the Transformation Age, a new era of human civilization, with Integral Consciousness rising at its leading edge. Our members don't use Integral Life as just another media subscription they use weekly or discard. Instead, most stay with us for years, using Integral Life to learn Integral Philosophy and build an integral mind slowly, methodically and when they need it. We're here to help you shape the future that's emerging no matter where your life takes you.

Get Full Access For $1 (30 days)* Or explore all membership plans →

* Trial price for the first 30 days, then $20/month. Cancel or switch plans in 2 minutes at any time.
Dr. Keith and Corey explore an Integral understanding of personality disorders, and how they fit into the mass formation distortions that currently seem to be happening all around us in our culture.
According to Keith, personality disorders are characterized by people being distressed by the consequences of their problems — social disapproval, depression, anxiety, frustration with others, or chronic failure — rather than the cause of their problems — pervasive and enduring aspects of their personalities where they only have one way to be, and that way produces drama instead of solving problems.
Examples are:
Narcissism: Feeding your image at expense of the self and objectifying others for gratification.
Paranoia: Chronic suspicion of the people around us, sometimes even our own friends and family.
Borderline personality disorder: Erratic and unstable cycles of love/hate
Anti-social personality disorder: Refusal to honor agreements, often accompanied by constant manipulation of people in our lives.
Mass formation delusions — defined as "an entire group, an entire population, all at the same time losing their rational faculties, being unable to think, acting as a herd" — create similar states among groups of people, supported by cultures that continually reinforce these sorts of personality distortions ("owning the libs", supporting the leader right or wrong, etc.). In both cases, respectful and non-violent speech seem to be the most effective remedies in the long run — but it can be a very long run.
Watch as Corey and Keith talk about the four quadrant factors that promote and perpetuate these sorts of dysfunctions — runaway coping mechanisms in the UL, neurological and physiological chemistry in the UR, cultural patterns and persuasions in the LL, and technological pressures and pathologies in the LR. All together, this four quadrant breakdown offers us a much fuller understanding of these challenges, and how to better navigate them in our daily lives.
---
Related Media
Dr. Keith Witt and Corey deVos
Dr. Keith and Corey take a careful look at the strategies and intended results of gaslighting — in our personal and professional relationships, as well as in media, marketing, politics, and society at-large. How can we can better inoculate ourselves from this pernicious form of psychological manipulation? Watch to find out!
---
---
---
Dr. Keith Witt and Corey deVos
Dr. Keith and Corey discuss "the H Factor" — a variation of the Big 5 personality types that adds a critical sixth trait, honesty and humility. Watch as we take a deep dive into the psychological benefits of honest self-reporting, of cultivating a healthy epistemic humility, and the sorts of "reality distortion fields" that seem to emanate from certain personalities.
---
---
---
Dr. Keith Witt and Corey deVos
Dr. Keith and Corey explore the two primary forms of reasoning — confirmatory reasoning, otherwise known as "confirmation bias", and exploratory reasoning, which considers multiple perspectives and anticipates criticism and objection to one's views and positions.

---
Become a member today to watch this
video presentation

and support the global emergence of Integral consciousness
Membership benefits include:
Live Experiences
Stay connected by participating in Integral Life live events and discussions
Free Bonus Gifts
Download The Integral Vision eBook by Ken Wilber (worth $19 on Amazon) & The Ken Wilber Biography Series
Support of the movement
Support our mission of educating and spreading integral consciousness that is more critical than at any time in its history
Learn more about membership plans →
Dr. Keith Witt is a Licensed Psychologist, teacher, and author who has lived and worked in Santa Barbara, CA. for over forty years. Dr. Witt is also the founder of The School of Love.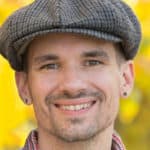 Corey W. deVos is Editor-in-Chief of Integral Life, as well as Managing Editor of KenWilber.com. He has worked for Integral Institute/Integal Life since Spring of 2003, and has been a student of integral theory and practice since 1996. Corey is also a professional woodworker, and many of his artworks can be found in his VisionLogix art gallery.