Become a
supporting member

to watch the full conversation

Humanity is entering the Transformation Age, a new era of human civilization, with Integral Consciousness rising at its leading edge. Our members don't use Integral Life as just another media subscription they use weekly or discard. Instead, most stay with us for years, using Integral Life to learn Integral Philosophy and build an integral mind slowly, methodically and when they need it. We're here to help you shape the future that's emerging no matter where your life takes you.

Get Full Access For $1 (30 days)* Or explore all membership plans →

* Trial price for the first 30 days, then $20/month. Cancel or switch plans in 2 minutes at any time.
Our intimate relationships are typically the most important, challenging, transformative, frustrating, and fulfilling parts of our lives. Every relationship is a testament to the "miracle of we" — somehow, out of billions of people on the planet, we find each other, we share all of our hidden parts with each other, and we create entire new realities between us.
And these relationships are never static. They are constantly shifting, morphing, and evolving as we both grow together, or as we grow apart from each other. And the more intentionality we can bring to our relationships, the greater the chances that our intimacy can not only survive the inevitable challenges and frictions of our lives, but actually thrive because of them.
In this thought-provoking episode, Dr. Keith Witt and Corey deVos delve into the intricacies of intimate relationships, exploring the concept of "intentional love affairs" and how they can be cultivated to deepen connection and intimacy. They discuss the importance of fostering better friendships, nurturing love affairs, and developing the ability to solve problems so effortlessly that they may not even appear as conflicts to others.
This conversation explores relationships in all four quadrants. Keith and Corey discuss the impact of space and time on relationships, highlighting how proximity and schedules can either limit or enhance intimacy. They touch on the influence of technology on relationships in the modern age, discussing its role as both a facilitator and a barrier to connection, as well as the many addictions, allergies, and growth opportunities that we see around the nearly ubiquitous availability of pornography. They also explore a number of techniques, practices, and therapeutic systems that can be used to bring more intention and connection into our relationships.
Keith and Corey then explore the spiritual understanding of eroticism, masculinity, and femininity, and the role these elements play in the dynamics of a relationship, and emphasize the importance of having a series of conversations that foster deeper emotional and spiritual connection.
This episode is a deep dive into the complexities of love and relationships, offering profound insights and practical advice on how to navigate your own intimate connections. Whether you are in a relationship or single, this episode is sure to provide valuable perspectives on love, intimacy, and personal growth.
Related Polarities
Here are some of the most critical polarities to consider while listening to this broadcast.
---
Become a member today to watch this
video presentation

and support the global emergence of Integral consciousness
Membership benefits include:
Live Experiences
Stay connected by participating in Integral Life live events and discussions
Free Bonus Gifts
Download The Integral Vision eBook by Ken Wilber (worth $19 on Amazon) & The Ken Wilber Biography Series
Support of the movement
Support our mission of educating and spreading integral consciousness that is more critical than at any time in its history
Learn more about membership plans →
Dr. Keith Witt is a Licensed Psychologist, teacher, and author who has lived and worked in Santa Barbara, CA. for over forty years. Dr. Witt is also the founder of The School of Love.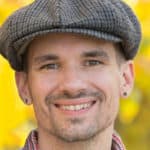 Corey W. deVos is Editor-in-Chief of Integral Life, as well as Managing Editor of KenWilber.com. He has worked for Integral Institute/Integal Life since Spring of 2003, and has been a student of integral theory and practice since 1996. Corey is also a professional woodworker, and many of his artworks can be found in his VisionLogix art gallery.